Wind power trailer-Wind blade adapter trailer
Wind power,as an ECO and renewable energy, will be more and more popular in the world.Wind power generation construction field is also prosperous in proportion . In the wind power industry, we mainly have wind power nacelle, wind turbine blades, wind tower section, etc. to complete industrial chain. GIRDER TRAILER provide all types transportation solutions for the wide power industry use:
Wind power nacelle trailer
Wind turbine blade trailer
Wind tower section trailer
Comparing with the nacelle and wind tower section ,Wind blade is longer and lighter.And it is also fragile and tender.How do make a safe and efficient transport for those blades is GIRDERTRAILER's purpose.
There are 2 type of methods to transport wind turbine blade:
| | | |
| --- | --- | --- |
| 1 | Length Extendable wind blade trailer | For normal transporting on the road |
| 2 | Wind blade adapter | For mountain region transporting |
Rotation wind blade adapter :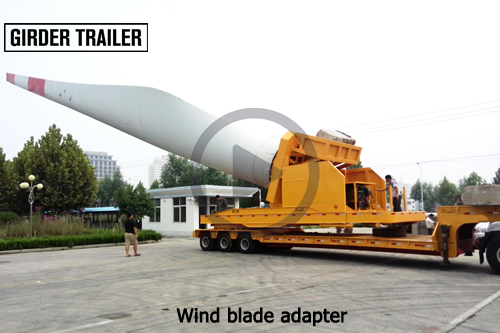 Comparing with telescopic extension wind blade trailer ,The rotation wind turbine blade adapter can raise, swing, and rotate the blades. It can avoid various obstacles such as trees, mountains, and wires on the way, effectively solve the problem of wind power blade transportation in mountain areas, and directly grasp the wind blades by the hydraulic power station .Hold in mid-air to transport a longer wind blade(more than 75meters) with a shorter length. In the case of high wind, the blades can rotate 360 degrees to avoid the wind, and participate in the balance through the counterweight to ensure transportation safety.
Structures:
The main components of the blade adapter includes Rotation platform, Blade circle holder, Lifting cylinders, Operation seats and valves, Low bed trailers.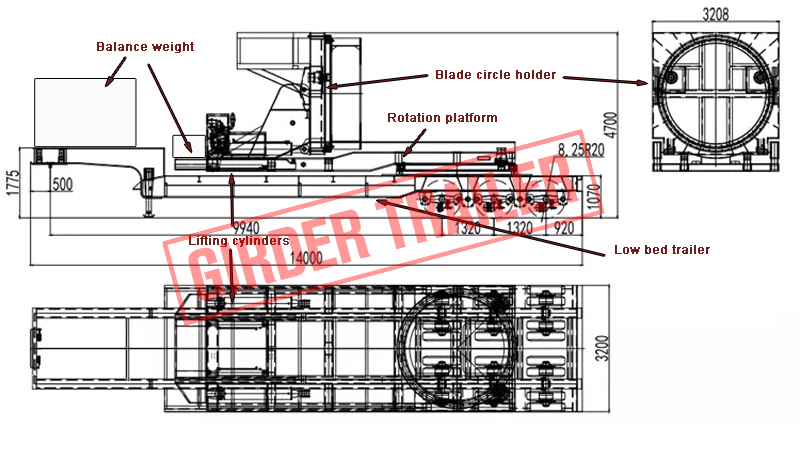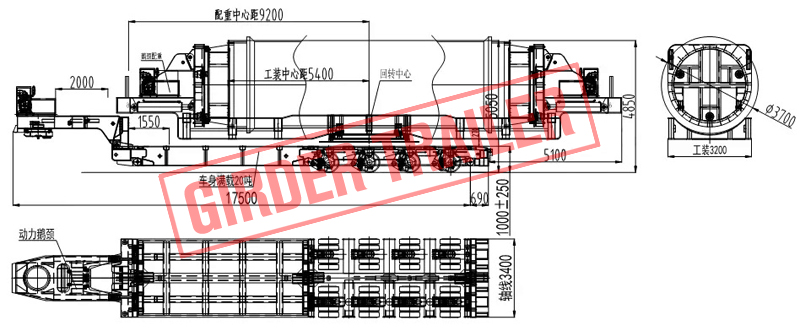 Rotation platform :The rotation platform is fixed on the Low bed trailer or Hydraulic modular trailer. It is fixed by some big bolts, and also we should weld it on the trailer platform to strength it.
Blade circle holder:One adapter could combine with different specification blade holders, and one holder could load Max. 7 specifications of blades.
Lifting cylinders:The adapter has one cylinder on each side (right and lift) to raise the wind blade
Operation seats and valves :The rotation and lifting movements is operated by manual work.
Low bed trailer more than 60tons payload
Features :
1. Max rotation angle of the rotor blade 360°

2. Max rotation angle of the platform 360°

3. Angle of inclination up to 60°

4. Radio remote control with display of wind speed, transverse gradient, blade position, ballast position

5. Girder brand wind blade adapter can combine with modular semi trailer and heavy duty low bed trailer.

6. The height of trailer platform can be 500mm to 1000mm

7. Self-balancing counterweight ensure the transport stability and safety

8. The suitable speed for complicated mountain roads: 20km/h

9.The maximum transport length of the blade is more than 75m
Parameters:
| | |
| --- | --- |
| Dimension | 14000mm×3200mm×4460mm (Outside) |
| Tooling Dimension | 10314mmx3200mmx3390mm |
| Tare weight | About 35Tons |
| Tooling Weight | 29Tons |
| Lifting cylinder | Cylinder diameter280mm Lift angle 0-55 |
| Gooseneck with an active platform | 1m |
| Hydraulic Station | 31KW Four-cylinder diesel engine |
| Axle | 3 line 6 axles, Yuek brand or hydraulic modular trailer |
| Landing Gear | Front and rear Hydraulic support cylinder |
| King Pin | 2.00 or 3.5 inch bolt-in king pin |
| Platform weight | 15Tons |
| Tire | 9.00R20*24Pcs |
More details: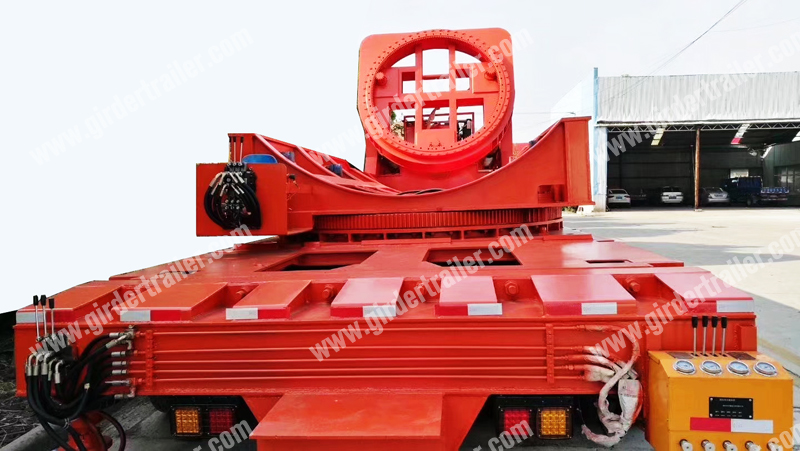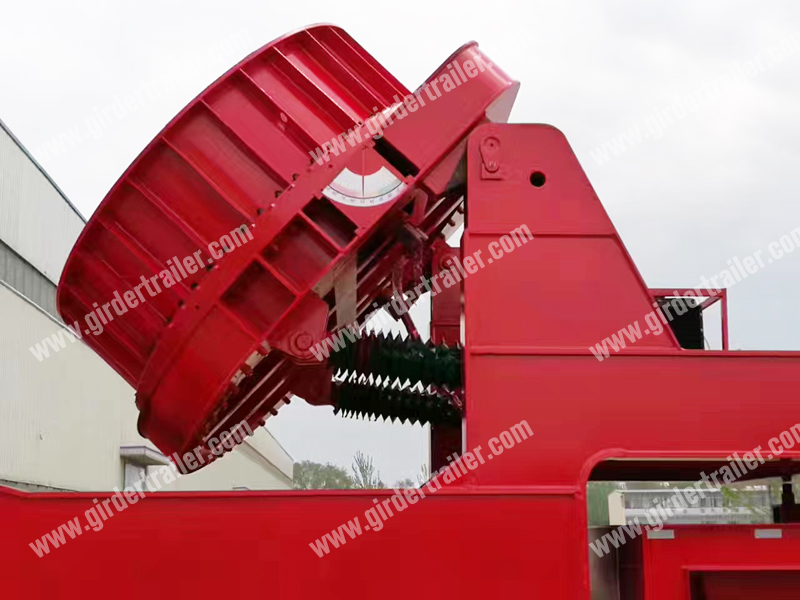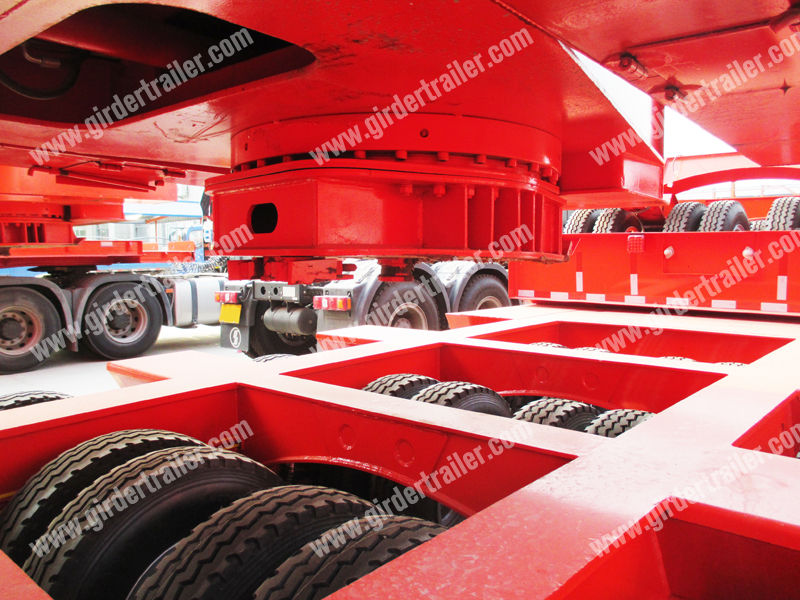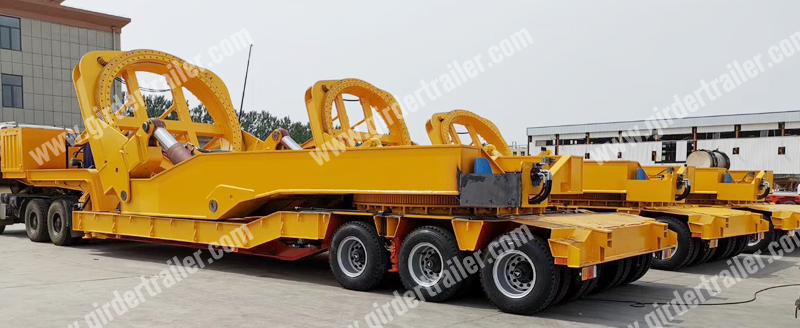 Wind turbine blade adapter mounted on low bed trailer

Wind turbine blade adapter mounted on hydraulic modular lifting steering trailer.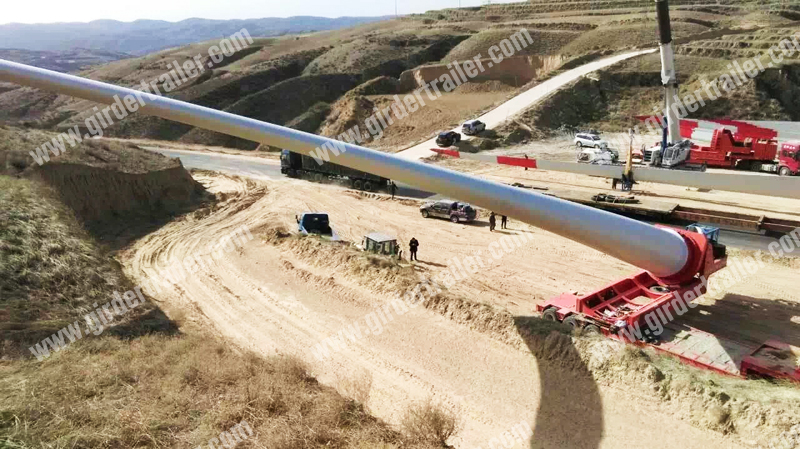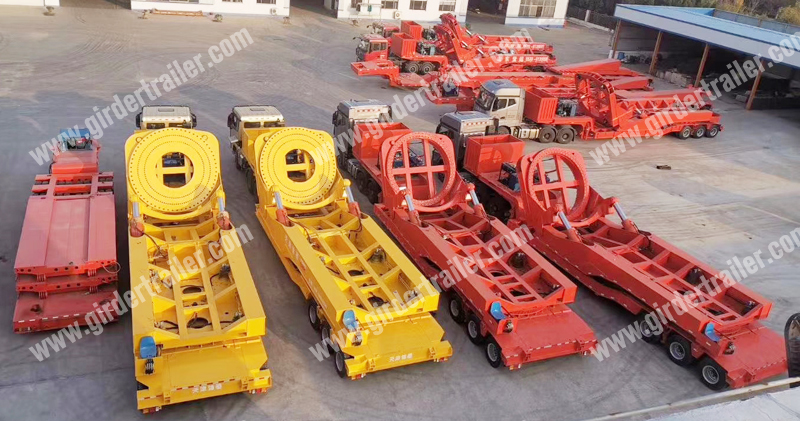 More details kindly contact:
+86 15650187200
info@girdertrailer.com