Oversized tank transport trailer -Width extendable tank transport trailer
Usage :Transport large-scale equipment tank body or wind tower.
Some large-scale production equipment are the focus of development in many fields, such as wind power, petrochemical, and engineering. The components of these large-scale production equipment, especially tank-type parts, have a diameter of more than 4 meters, more than 30 meters in length, more than 100 tons in weight.
This kind of trailers are professional for transporting the above cargo.
There are some mainly types of tank transporter trailers as follow:
Tank transport ultra low bed trailer ,
Width/length extendable oversized tank transport trailer
Steering axles tank transport trailer
Heavy duty lift dolly tank transport trailer with concave platform
Tank transport modular trailer
Clamped type tank transport trailer with concave platform
SPMT tank transport trailer
Width extendable tank transport trailer: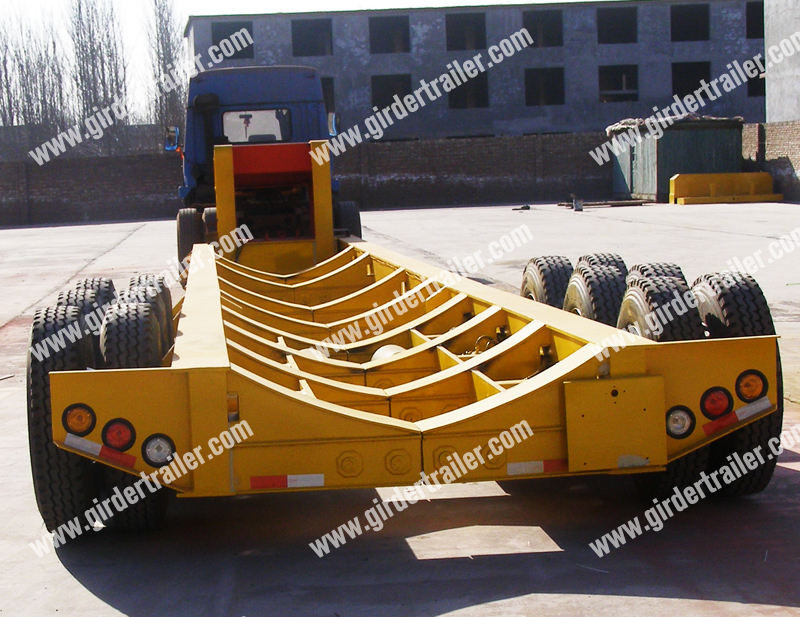 Features :
1. Width extendable tank trailer can transport different diameters oversized tanks.
Can transport diameters more than 4.5meters tank equipment.
2.The platform height can be made very low.It can be 350mm-900mm from the ground.
3.It has normal axles type and steering axis type. Normal axles type can have 2-4 axles ,Steering axles can have more than 5 axles .
4.The payload is from 30tons to 200tons .
Parameters:
| | |
| --- | --- |
| Model | GTGC60TDP |
| Payload | 30000KG-200000KGS |
| Platform | With radian for different diameters tank bodies ,width extendable |
| Axles | 2-10 axis lines optional |
| Tire | Optional |
| Power station | One for control the hydraulic systems |
| Braking system | Double air chamber ,brake valve,45L air tanks ;ABS optional |
| Electrical | LED light , 7 ways ,24V |
| Painting | Blasting and clean rust,1 coat of prime painting ,2 coat of finish painting |
More pictures:

Normal axis tank transpor trailer


Steering width extendable tank transport trailers.
More details kindly contact:
+86 15650187200
info@girdertrailer.com