Wind power trailer-Wind blade trailer
Wind power,as an ECO and renewable energy, will be more and more popular in the world.Wind power generation construction field is also prosperous in proportion . In the wind power industry, we mainly have wind power nacelle, wind turbine blades, wind tower section, etc. to complete industrial chain. GIRDER TRAILER provide all types transportation solutions for the wide power industry use:
Wind power nacelle trailer
Wind turbine blade trailer
Wind tower section trailer
Comparing with the nacelle and wind tower section ,Wind blade is longer and lighter.And it is also fragile and tender.How do make a safe and efficient transport for those blades is GIRDERTRAILER's purpose.
There are 2 type of methods to transport wind turbine blade:
| | | |
| --- | --- | --- |
| 1 | Length Extendable wind blade trailer | For normal transporting on the road |
| 2 | Wind blade adapter | For mountain region transporting |
Length extendable wind power blade trailer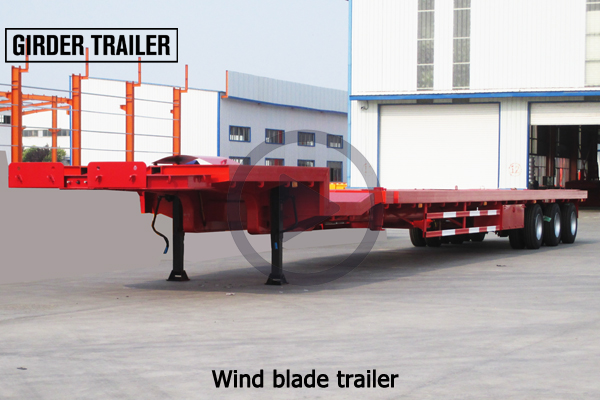 Extension function is inevitable in such kind of trailer. Before extension, the trailer is basically a normal flatbed trailer, which is available for regular cargo transportation.Since the trailer is too long after extension, bogie steering type axle is sometimes adopted to facilitate the turning during road duty. Special locks are also placed on the deck to lock the blade. Air suspension or hydraulic lifting steering suspension is also a good option for the stabilization.
Features :
Trailer length from 15-23meters extend to 38-60meters.
Transport 45meters to 80meters windmill turbine blade.
Loading capacity is up to 60tons.
All wheels are steering.
Highly robust frames and outstanding stability of extension beam.
Mechanical spring suspension ,air suspension or hydraulic suspension is optional
Manual valve operation and wireless remote control.
Parameters:
| | |
| --- | --- |
| Brand | GIRDER brand Wind Turbine Blade Trailer |
| Dimension (closed state) | (15,000mm-23000mm)X3000mmX1350mm |
| Total length | 38000mm-56,000mm after extension |
| Loading capacity | 60 Ton |
| Platform thickness | 3 mm |
| Hydraulic power station | Diesel engine |
| Axle | 3 or4 units steering axle |
| Suspension | Mechanical spring suspension/air suspension/hydraulic suspension optional |
| Tyre | 12 pcs or16pcs |
| Braking system | WABCO emergency valve |
| King pin | 3.5 inch high tensile steel bolted type |
| Landing gear | JOST C200 with hydraulic landing legs optional |
More details: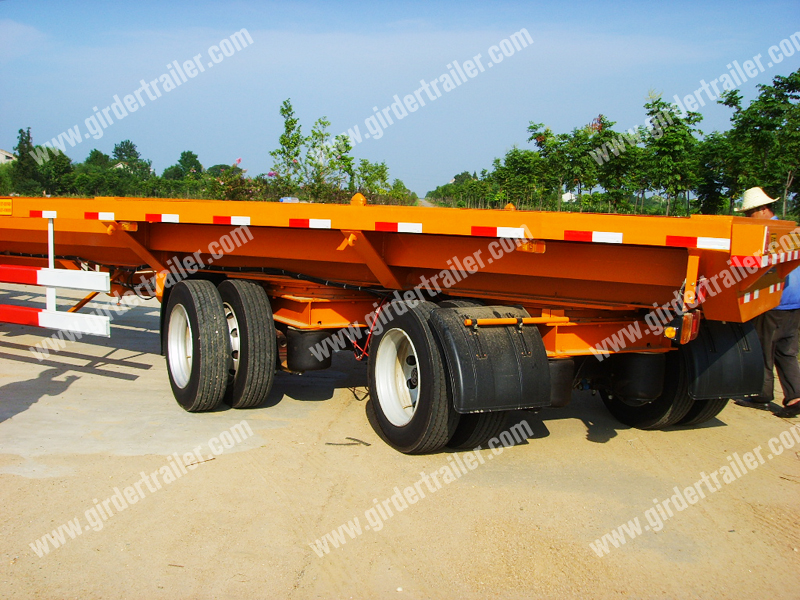 2 axles steering windmill blade trailer (air suspension and mechanical suspension optional)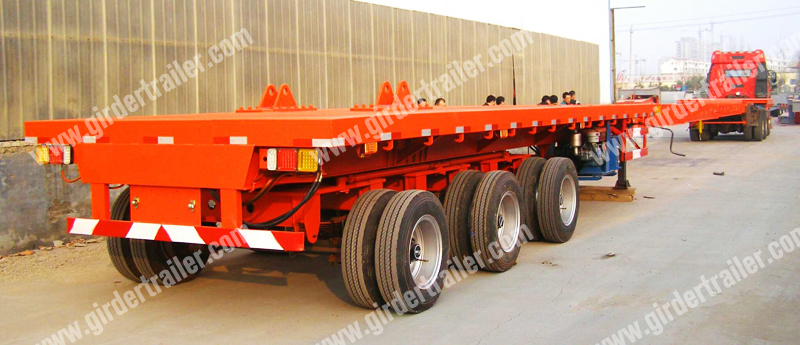 3 axles steering windmill blade trailer (air suspension and mechanical suspension optional)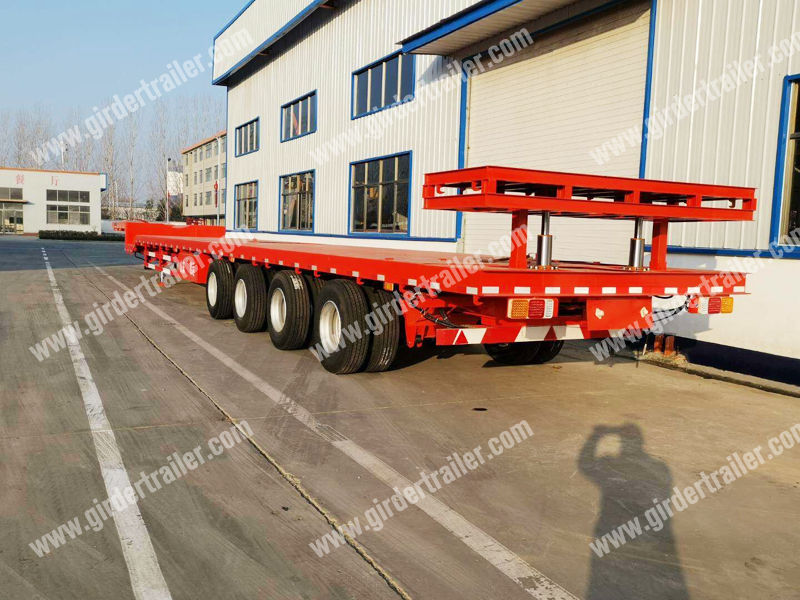 4 axles steering wind power blade trailer (air suspension and mechanical suspension optional)

Cantilever suspesion rigid type steering 2 line 4 axis wind blade trailer

Hydraulic lifting steering wind blade trailer (modular trailer type)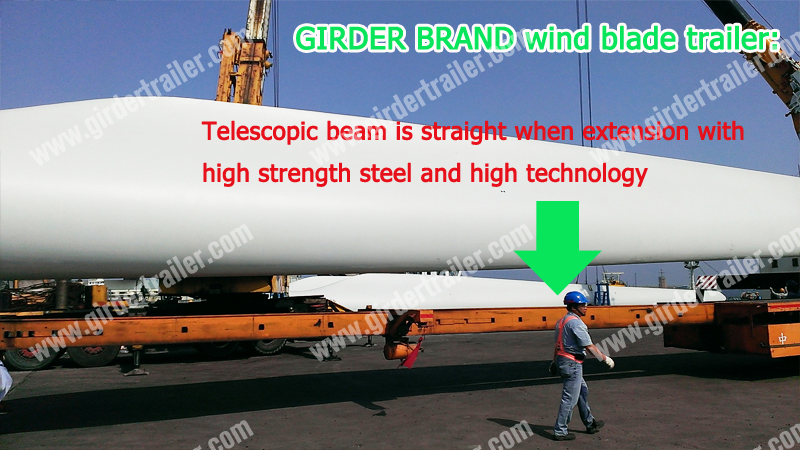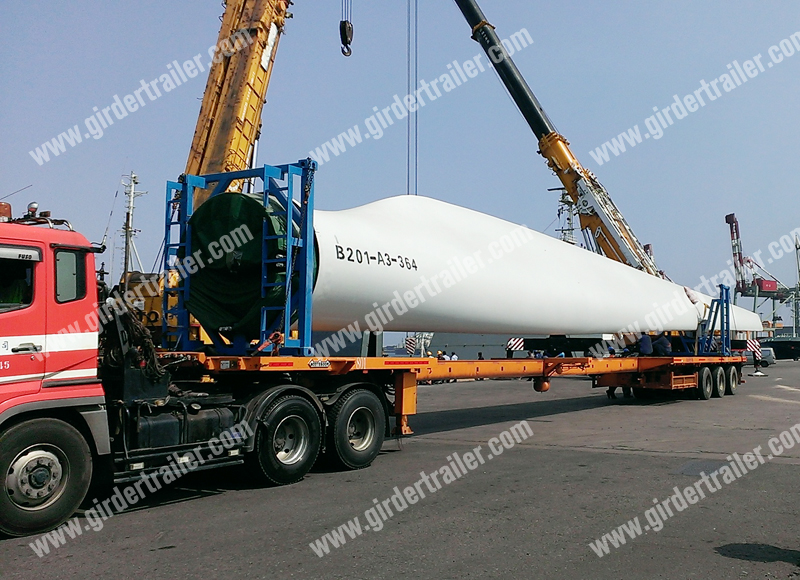 More details kindly contact:
+86 15650187200
info@girdertrailer.com