LOW BED TRAILER -Modular low bed trailer
Low bed trailer is a kind of semi-trailer that has a super low cargo platform, the platform is also called drop-deck. Mainly specialized for transportation of crawler crane, excavator, crawler loader, bulldozer, railroad equipment, and other crawlers/tires equipment. Benefit from the low bed design, the trailer has high trafficability to go through bridge arc and tunnel, and lowers COG(center of gravity) of cargo.The trailer body has a drop-deck which is lower than the front gooseneck and the rear wheel-set, due to the drop deck design, it always comes with a gooseneck, so it is also called low bed semi-trailer.
DIFFERENT TYPES OF LOWBOY TRAILER
made by [GIRDER TRAILER]
Modular low bed trailer
QINGDAO SHIYUN TRAILER CO.,LD ,is a professional China Trailer manufacturer with brand "girder trailer".hydraulic lifting lowboy trailer is a kind of drop deck lowboy trailer whose suspension can be lifting .It has two kind of lifting type:hydraulic steering or modular trailer steering (same as NICHOLAS) .The height can be lift adjustable and the gooseneck can be detachable optional. All the he parameters can be made according to your special requirement.
GIRDER BRAND TRAILER has two kinds of hydraulic lifting low bed trailers classified by suspension:
1.Servo/hydraulic steering lifting low bed trailer : connect with the hydraulic rotary from the gooseneck to realize all the axles steering ,and the suspension can make the trailer whole platform lifting .Hydraulic pendulum axles type platform trailer ,could be coupled with a low bed platform to transport oversize equipment over up to 200 tons
2.Modular type low bed trailer :Can choose NICHOLAS type or GOLDHOLFER TYPE. It is equivalent to a modular trailer connect with a lowbed platform with gooseneck to transport cargoes .And the modular can be coupling with the same type modular .
Here we introduce our 2nd one steering lifting low bed trailer :
Steering lifting low bed trailer -modular type :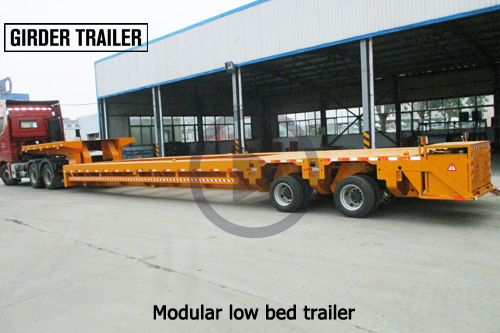 Features:
1.Two axle lines, three axle lines, four axle lines, five axle lines, six axle lines and eight axle lines selectable;
2.Complete modular unit and split modular unit selectable;
2. The width of 3 meters and 3.6 meters selectable;
3. Modular design can be coupled side-by-side or end-by-end;
4. Hydraulic suspension with ball bearing race rings, excellent damping performance;
5. Lifting compensation±300mm;
6. Self-adjustment suspension for different road surface;
7. Hydraulic three point or four point support, uniform load;
8. Counter steering, realize small turning radius;
9. Full trailer, semi trailer and self-propelled trailer selectable;
10. Max. towed speed up to 80km/h;
11. Hydraulic tank and air reservoir built into frame;
12. Can be coupled with same type trailer of other brands.
Structures:
1.High tensile steel chassis frame, durable with high safty factor.
2.Hydraulic cylinder suspension.
3.Power pack(diesel engine), supply hydraulic pressure for steering and lifting. Air compressor is an option if your prime mover has no air brake.
4.Hydraulic/mechanical steering system. Hydraulic pressure came from power pack to steering and lifting jack, drive steering tie rods which tied up with suspension, then realize steering of whole trailer. When hydraulic pressure functioned in lifting cylinder, hydraulic platform trailer can go up and down.
5.Hydraulic gooseneck
6.High tensile flat beam or concave beam
Parameters:
Speed(km/h)

1

20

80

Payload per axle line

36

25

17

Dead weight /axle line

4ton

Overall width

3000mm-3500mm

Height

1175±300 mm

Wheelbase

1500mm

Track

1800 mm

Tyre type

215/75R7.5

Max turning angle

55°
Above data can be customized per your local regulation and requirement.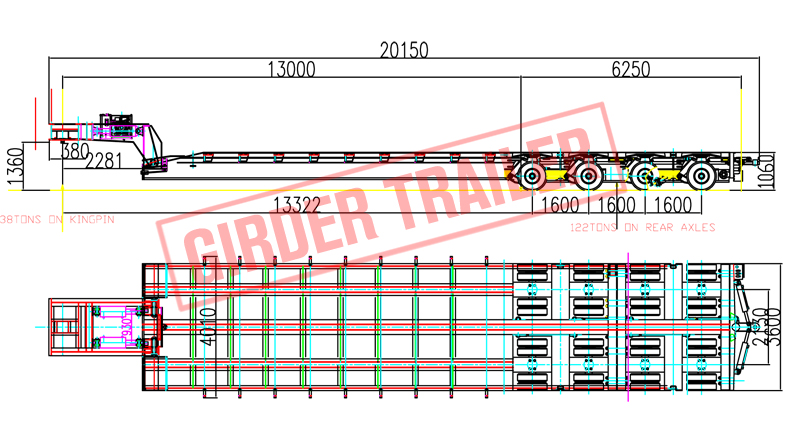 Drawing of module low bed trailer

3 axis lines modular low boy trailer

5 axis lines module lowboy trailer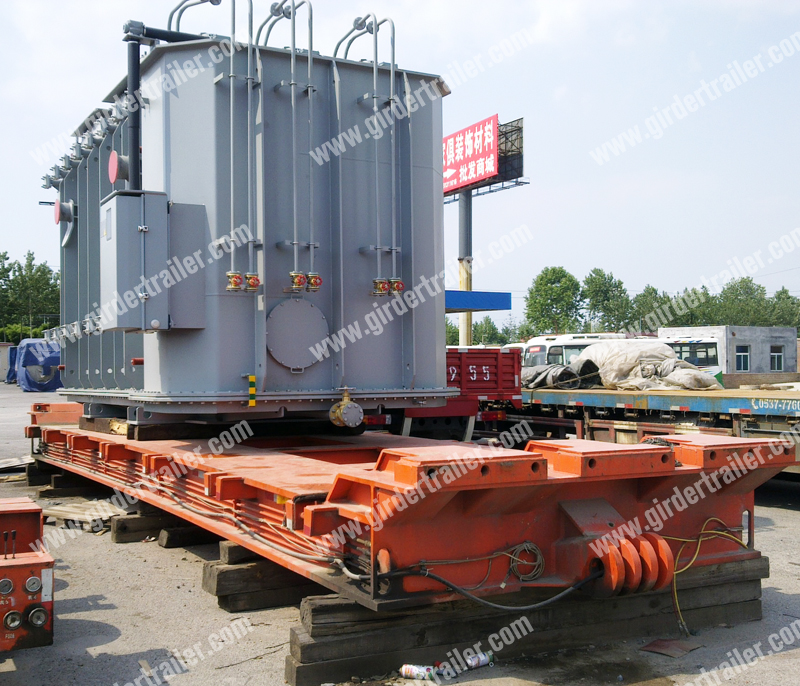 Heavy duty concave beam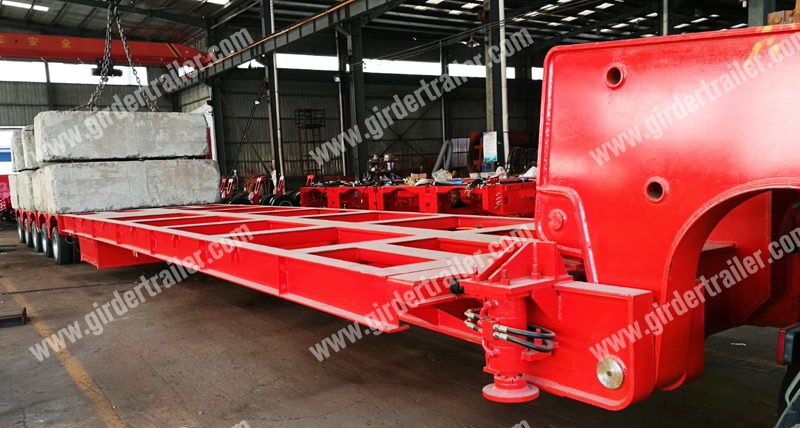 Hydraulic lifting system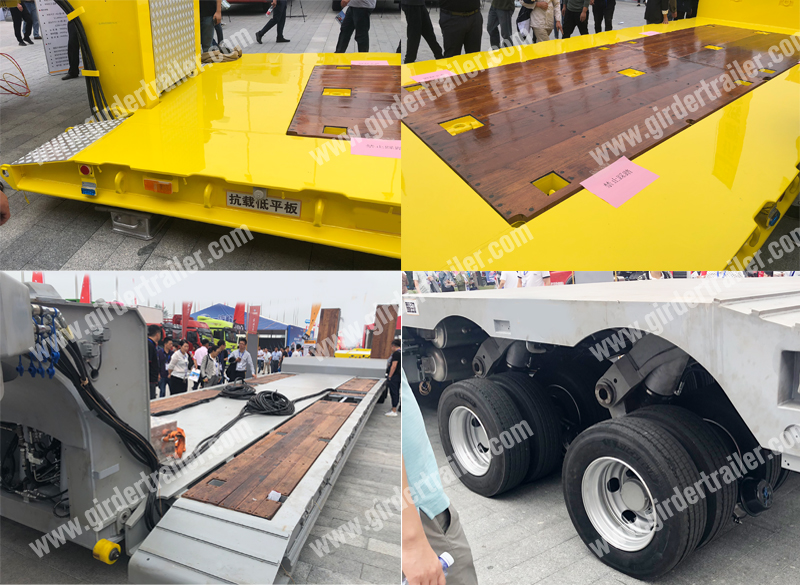 Wood deck type modular low loader trailer
More details kindly contact
+86 15650187200
info@girdertrailer.com