QINGDAO SHIYUN TRAILER CO.,LD ,is a professional China Trailer manufacturer with brand "girder trailer".Tank trailers are used to transport liquids and gas in large volumes.The trailers came in different models because of the wide variety of liquefied loads.
Liquid tank trailer

Type

Model

Usage

GT0301GYY

Gasoline,diesel oil,kerosene,jet fuel

GT0201GLY

Tar,Bitumen ,asphalt

GT0301GHY

Acids ,Alkalies,Hydrogen peroxide,ammonium hydroxide

GT0301GRY

Crude oil, pentane, petroleum ether,alcohol

GT0301GYS

Edible oil,beer,milk,water,juice,ice cream,sugar water

Pressure vessel

Type

Model

Usage

GT0301GYQ

Propylene,propane,butane,butadiene,liquid ammonia ,liquefied petroleum gas(LPG)

GT0301GDY

Liquefied natural gas(LNG)

GT0301GRQ

Compressed Natural Gas(CNG)
3 axles aluminum fuel tank trailer,gasoline/diesel transporting 40000L alloy tanker semi trailer :
Features:
1.Can design different volume of tank body.
2.Tank material can be carbon steel,stainless steel,aluminum for different kinds of liquid transporting.
3.Can design different compartments to transport same or different liquid.
4.Axles number can be 1,2,3,4 axles or superlink axles for transporting different weight liquid.
5.Man hole can be simple one or European type with release valve,spill-proof sensor and oil vapor recovery valve..
6.All rooms in the tank have baffle plates to reduce the fluctuations of the liquid.
7.The bottom valve is generally installed in an oil tanker's outlet. In case of a crash in an accident, the valve can cut off the pipeline in 5 seconds.The quick cut off also prevents leakage and explosion in an accident.
Parameters:
| | |
| --- | --- |
| Model | GT0302GYY |
| Volume | 20000L-40000L |
| Size | 11700*2500*3600 (mm) (Other dimensions optional) |
| Tank body | 5mm tank body with end plate 6mm (Other thickness optional) |
| Discharge valve | Ball valve |
| Discharge pipe | 4'' rubber hose |
| Axles | 2* 13ton capacity (Brand optional) |
| Suspension | Mechanical suspension with 10pcs leaf springs (Air suspension /bogie type) |
| Tire& rims | 12R22.5 315/80R22.5 12pcs (Other size optional) with 9.00-22.5rims |
| King pin | 2''/3.5'' bolt type |
| Landing gear | 28 Ton two speed |
| Braking system | Double air chamber ,brake valve,40L air tanks ;ABS optional |
| Electrical | LED light , 7 ways ,24V |
| Painting | Blasting and clean rust,1 coat of prime painting ,2 coat of finish painting |
Above data can be customized per your local regulation and requirement.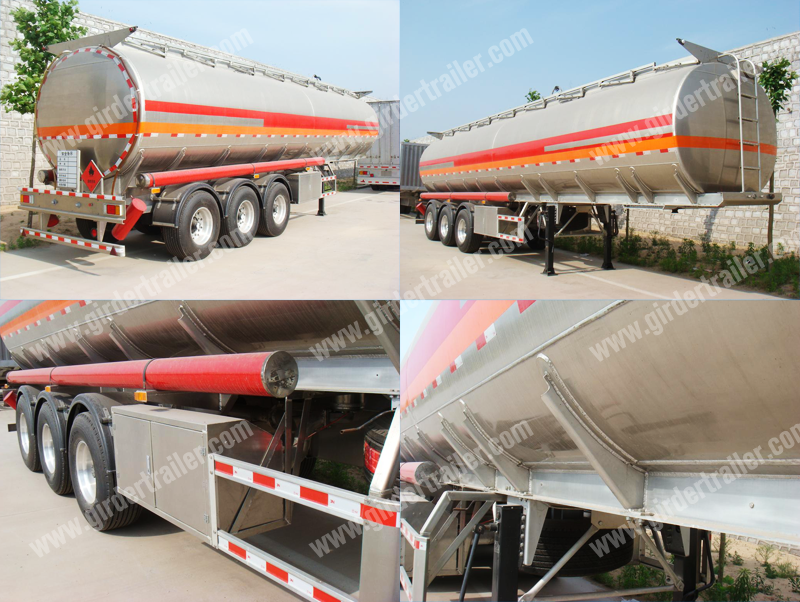 Aluminum fuel tank trailer

Shipment for tank trailer
More details kindly contact:
info@girdertrailer.com
+86 15650187200